About Us
Lucky Bowl is a Chinese takeaway in Inverness. Why don't you try our Vegetarian Spring Roll or Crispy Shredded Chicken in Sauce?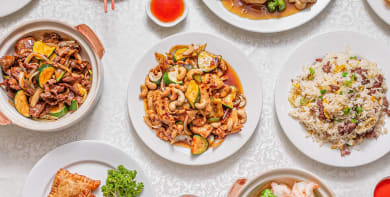 Reviews
62 reviews
dawn
"Really lovely food, hot and delivery was great..... really impressed!!"
12/06/2021
Paul
"Food was delicious and hot, and delivered ahead of schedule, can't ask for any more! Thank you!"
07/06/2021
Dougie
"Very tasty"
07/06/2021
Dave
"Excellent service and an enjoyable meal reminded us of our holiday in China"
05/06/2021
Menu
Aromatic Duck Quarter
Served with pancakes, cucumber, spring onions & hoisin sauce
£9.00
Aromatic Duck Half
Served with pancakes, cucumber, spring onions & hoisin sauce
£16.00
Aromatic Duck Whole
Served with pancakes, cucumber, spring onions & hoisin sauce
£26.00
Aromatic Lamb Quarter
Served with pancakes, cucumber, spring onions & hoisin sauce
£9.00
Aromatic Lamb Half
Served with pancakes, cucumber, spring onions & hoisin sauce
£16.00
Aromatic Lamb Whole
Served with pancakes, cucumber, spring onions & hoisin sauce
£26.00
Vegetarian Spring Roll
8 Mini rolls
£3.50
Meat Spring Rolls
4 Medium rolls
£3.80
Crispy Wonton
Prawn & chicken meats inside
£4.00
Sesame Prawn on Toast
Contain nuts
£4.50
Chicken Satay on Skewers (4)
Contain nuts
£5.30
Barbecue Spare Ribs (Dry)
£5.70
Barbecue Spare Ribs (with Sauce)
£5.90
Salt & Chilli Spare Ribs
Mild
£5.90
Mixed Starter
For 2 persons
Seaweed, BBQ ribs sesame prawn toast, spring roll & crispy wonton
£10.00
Traditional Chinese Dumpling Grill
£6.80
Traditional Chinese Dumpling Steam
£6.80
Crab Meat & Sweetcorn Soup
£3.20
Hot & Sour Soup
Mild
With pork & prawn
£3.70
Homemade Wonton Soup
With pork meat
£4.30
Chicken with Cashew Nuts
Contain nuts
£7.20
Chicken with Mixed Vegetables
£7.20
Chicken in Chilli Sauce
Medium
£7.20
Chicken in Black Bean Sauce
Medium
£7.20
Kung Po Chicken
With cashew nuts
Contain nuts
£7.30
Spicy Chicken in Honey
Mild
£7.30
Deep Fried Chicken in Sauce Lemon Sauce
£7.30
Deep Fried Chicken in Sauce Orange Sauce
£7.30
Crispy Shredded Chicken in Sauce Chilli Sauce (Medium)
£7.40
Crispy Shredded Chicken in Sauce Sweet & Sour Sauce
£7.40
Crispy Shredded Chicken in Sauce Sweet Chilli Sauce (Mild)
£7.40
Crispy Shredded Chicken with Salt & Chilli
Dry dish
£7.40
Sweet & Sour Chicken Hong Kong Style
£7.20
Sweet & Sour Chicken Ball
£7.20
Sweet & Sour Pork Hong Kong Style
£7.20
Sweet & Sour King Prawn Hong Kong Style
£7.50
Sweet & Sour King Prawn Ball
£7.50
Sweet & Sour Special
With chicken, pork & prawn
£7.80
Special Curry
With chicken, beef, pork & prawn
£7.80
Chicken Thai Red Curry
Medium
£7.30
Beef Thai Red Curry
Medium
£7.30
King Prawn Thai Red Curry
Medium
£7.50
Mixed Vegetable Thai Red Curry
Medium
£6.80
Chicken in Satay Sauce
Mild
Contain nuts
£7.30
Beef in Satay Sauce
Mild
Contain nuts
£7.30
King Prawn in Satay Sauce
Mild
Contain nuts
£7.50
Chicken in Malaysian Satay Sauce
£7.30
Beef in Malaysian Satay Sauce
£7.30
King Prawn in Malaysian Satay Sauce
£7.50
Quick-Fried Beef with Spring Onion
Heat oil in wok gently, add onions & beef
Saute for a while
£8.50
Quick-Fried Lamb with Cumin
Hot
Stir fried lamb with cumin
Chinese Muslim style, cumin encrusted lamb
£8.80
Thai Siam Crispy Shredded Chicken
£7.30
Thai Siam Crispy Shredded Beef
Mild
£7.30
Thai Siam King Prawn
MIld
£7.50
Beef Szechuan Style
Medium
£7.20
Beef in Black Bean Sauce
Medium
£7.20
Crispy Shredded Beef in Sauce Chilli Sauce (Mild)
£7.40
Crispy Shredded Beef in Sauce Peking Sauce
£7.40
Crispy Shredded Beef in Sauce Sweet Chilli Sauce (Mild)
£7.40
Beef Fillet Cantonese Style
£7.50
Beef Fillet in Black Pepper Sauce
Mild
£7.50
Roast Pork Cantonese Style
£7.30
Roast Pork Szechuan Style
Medium
£7.30
Roast Pork in Black Bean Sauce
£7.30
Roast Duck in Orange Sauce
£7.80
Roast Duck in Chilli Sauce
Medium
£7.80
Roast Duck in Black Bean Sauce
Medium
£7.80
Roast Duck with Mixed Vegetables
£7.80
Mixed Meat Szechuan Style
Medium
£7.30
Mixed Meat with Cashewnuts
£7.30
Kung Po Mixed Meat
Mild
With cashew nuts
£7.50
King Prawn with Ginger & Spring Onion
£7.50
King Prawn with Mixed Vegetables
£7.50
King Prawn in Chilli Sauce
Medium
£7.50
King Prawn in Hot Garlic Sauce
Medium
£7.50
King Prawn in Black Bean Sauce
Medium
£7.50
King Prawn with Salt & Chilli
Medium
Dry dish
£7.50
Squid with Ginger & Spring Onion
£7.50
Squid in Hot Garlic Sauce
Mild
£7.50
Deep Fried Squid with Salt & Chilli
Mild
Dry dish
£7.50
Mussels in Hot Garlic Sauce
Mild
£7.50
Mussels in Black Bean Sauce
Medium
£7.50
Mixed Seafood in Black Bean Sauce
Medium
£7.50
Mixed Seafood
With Chinese mushroom & bamboo shoots
£7.80
Mixed Vegetables Curry
Mild
£6.60
Mixed Vegetables in Black Bean Sauce
Medium
£6.60
Kung Po Mixed Vegetables
Mild
With cashew nuts
£6.60
Mixed Vegetable Fried Rice
£6.60
Singapore Fried Rice
Medium
With pork & shrimp
£7.40
Special Fried Rice
Mixed meat stir-fry with vegetables
£7.80
Mixed Vegetable Chow Mein
£6.60
Singapore Chow Mein
Medium
With pork & shrimp
£7.60
Special Chow Mein
With chicken, beef, pork & prawn
£7.80
Singapore Vermicelli
Mild
Rice noodles with pork & shrimp
£7.60
Thai Style Chicken Noodles
£7.20
Special Foo Yung
With chicken, beef, pork & prawn
£7.50
Egg Fried Rice with Sauce BBQ Sauce
£3.50
Egg Fried Rice with Sauce Curry Sauce
£3.50
Egg Fried Rice with Sauce Sweet & Sour Sauce
£3.50
Chips with Sauce BBQ Sauce
£3.30
Chips with Sauce Curry Sauce (Mild)
£3.30
Chips with Sauce Sweet & Sour Sauce
£3.30
Chips, Egg Fried Rice with Curry Sauce
£4.20
Soft Noodles with Beansprout
£4.00
Sauce BBQ (Chinese Gravy)
£2.80
Set Meal for One
Mini spring roll or BBQ ribs
Sweet & sour chicken or chicken curry or beef curry
Boiled rice or chips
£10.00
Set Meal for 2 (Min for 2)
Spring roll
Crispy wonton with sweet & sour sauce
Barbecue spare ribs
Chicken curry
Beef in black bean sauce
Sweet & sour king prawn in Hong Kong style
2 Egg fried rice
2 Fortune cookies
£27.50
Set Meal for 3 (Min for 3)
Spring roll
Chicken satay on skewers
Sesame prawn on toast
Peking spare ribs
Sweet & sour chicken (Hong Kong style)
Beef in satay sauce
King prawn in black bean sauce
Chicken chow mein
3 Egg fried rice
3 Fortune cookies
£38.50
Set Meal for 4 (Min for 4)
Duck spring roll
Crispy wonton with sweet & sour sauce
Salt & chilli spare ribs
Quarter aromatic duck
Crispy shredded chicken in chilli sauce
Beef in oyster sauce
Sweet & sour pork (Hong Kong style)
King prawn curry
Special chow mein (with pork & shrimp)
4 Egg fried rice
Banana fritter
4 Fortune cookies
£45.50
Jumbo Box
Chicken wings (4)
Dry BBQ ribs (2)
Mini vegetable spring rolls (6)
Chicken balls (3)
Egg fried rice (1)
Beansprout noodles (1)
Salt & pepper chips (1)
Curry sauce (1)
Prawn crackers (1)
(Can Not Change Items)
£16.00
Contact Us
Find Us
Address 25 Union Street, Inverness, IV11QA
We deliver to
IV1, IV2, IV3