About Us
Lucky Bowl is a Chinese takeaway in Inverness. Why don't you try our Vegetarian Spring Roll or Crispy Shredded Chicken in Sauce?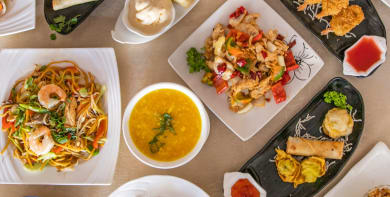 Reviews
229 reviews
Paul
"Awesome munchie box"
13/02/2021
Joanne
"Fast delivery and delicious food."
12/02/2021
Elena
"Great, tasted perfectly, delivered quickly and safely, personal notes taken into account as well, will order again!"
10/02/2021
Colin
"Good food and a good service."
25/01/2021
Menu
Chicken in Malaysian Satay Sauce
£7.30
Beef in Malaysian Satay Sauce
£7.30
King Prawn in Malaysian Satay Sauce
£7.50
Lamb in Malaysian Satay Sauce
£8.00
Thai Siam Crispy Shredded Chicken
£7.30
Thai Siam Crispy Shredded Beef
Mild
£7.30
Thai Siam King Prawn
MIld
£7.50
Thai Siam Tofu
Mild
Bean curd
£7.10
Thai Style Chicken Noodles
£7.20
Chicken Thai Red Curry
Medium
£7.30
Beef Thai Red Curry
Medium
£7.30
King Prawn Thai Red Curry
Medium
£7.50
Mixed Vegetable Thai Red Curry
Medium
£6.80
Beef Szechuan Style
Medium
£7.20
Beef in Black Bean Sauce
Medium
£7.20
Crispy Shredded Beef in Sauce Chilli Sauce (Mild)
£7.40
Crispy Shredded Beef in Sauce Sweet Chilli Sauce (Mild)
£7.40
Crispy Shredded Beef in Sauce Peking Sauce
£7.40
Beef Fillet Cantonese Style
£7.50
Beef Fillet in Black Pepper Sauce
Mild
£7.50
Roast Pork Cantonese Style
£7.30
Roast Pork Szechuan Style
Medium
£7.30
Roast Pork in Black Bean Sauce
£7.30
Aromatic Duck Quarter
Served with pancakes, cucumber, spring onions & hoisin sauce
£9.00
Aromatic Duck Half
Served with pancakes, cucumber, spring onions & hoisin sauce
£16.00
Aromatic Duck Whole
Served with pancakes, cucumber, spring onions & hoisin sauce
£26.00
Aromatic Lamb Quarter
Served with pancakes, cucumber, spring onions & hoisin sauce
£9.00
Aromatic Lamb Half
Served with pancakes, cucumber, spring onions & hoisin sauce
£16.00
Aromatic Lamb Whole
Served with pancakes, cucumber, spring onions & hoisin sauce
£26.00
Vegetarian Spring Roll
8 Mini rolls
£3.50
Meat Spring Rolls
4 Medium rolls
£3.80
Crispy Seaweed
With groundfish
£4.00
Crispy Wonton
Prawn & chicken meats inside
£4.00
Sesame Prawn on Toast
Contain nuts
£4.50
Chicken Satay on Skewers (4)
Contain nuts
£5.30
Barbecue Spare Ribs (Dry)
£5.70
Barbecue Spare Ribs (with Sauce)
£5.90
Salt & Chilli Spare Ribs
Mild
£5.90
Mixed Starter
For 2 persons
Seaweed, BBQ ribs sesame prawn toast, spring roll & crispy wonton
£10.00
Traditional Chinese Dumpling Grill
£6.80
Traditional Chinese Dumpling Steam
£6.80
Crab Meat & Sweetcorn Soup
£3.20
Hot & Sour Soup
Mild
With pork & prawn
£3.70
Homemade Wonton Soup
With pork meat
£4.30
Mongolian Lam
Crispy lamb in hot sauce
£8.00
Lamb with Ginger & Spring Onions
£8.00
Lamb in Chilli Sauce
Medium
£8.00
Lamb in Black Bean Sauce
Medium
£8.00
Roast Duck in Orange Sauce
£7.80
Roast Duck in Chilli Sauce
Medium
£7.80
Roast Duck in Black Bean Sauce
Medium
£7.80
Roast Duck with Mixed Vegetables
£7.80
Mixed Vegetable Chow Mein
£6.60
Singapore Chow Mein
Medium
With pork & shrimp
£7.60
Special Chow Mein
With chicken, beef, pork & prawn
£7.80
Singapore Vermicelli
Mild
Rice noodles with pork & shrimp
£7.60
Mixed Vegetable with Crispy Noodles
£6.80
Chicken with Crispy Noodles
£7.30
Special Crispy Noodles
With chicken, beef, pork & prawn
£7.50
Chicken with Cashew Nuts
Contain nuts
£7.20
Chicken with Mixed Vegetables
£7.20
Chicken in Chilli Sauce
Medium
£7.20
Chicken in Black Bean Sauce
Medium
£7.20
Kung Po Chicken
With cashew nuts
Contain nuts
£7.30
Spicy Chicken in Honey
Mild
£7.30
Deep Fried Chicken in Sauce Lemon Sauce
£7.30
Deep Fried Chicken in Sauce Orange Sauce
£7.30
Crispy Shredded Chicken in Sauce Chilli Sauce (Medium)
£7.40
Crispy Shredded Chicken in Sauce Sweet Chilli Sauce (Mild)
£7.40
Crispy Shredded Chicken in Sauce Sweet & Sour Sauce
£7.40
Crispy Shredded Chicken with Salt & Chilli
Dry dish
£7.40
King Prawn with Ginger & Spring Onion
£7.50
King Prawn with Mixed Vegetables
£7.50
King Prawn in Chilli Sauce
Medium
£7.50
King Prawn in Hot Garlic Sauce
Medium
£7.50
King Prawn in Black Bean Sauce
Medium
£7.50
King Prawn with Salt & Chilli
Medium
Dry dish
£7.50
Squid with Ginger & Spring Onion
£7.50
Squid in Hot Garlic Sauce
Mild
£7.50
Deep Fried Squid with Salt & Chilli
Mild
Dry dish
£7.50
Mussels in Hot Garlic Sauce
Mild
£7.50
Mussels in Black Bean Sauce
Medium
£7.50
Mixed Seafood in Black Bean Sauce
Medium
£7.50
Mixed Seafood
With Chinese mushroom & bamboo shoots
£7.80
Special Curry
With chicken, beef, pork & prawn
£7.80
Chinese Kung Pao Chicken
Mild
Contain nuts
The wok is seasoned & then chilli peppers & pepperoni are flash fried to add fragrance to the oil
Then the chicken is stir fried & vegetables, along with peanuts are added
£8.30
Quick-Fried Beef with Spring Onion
Heat oil in wok gently, add onions & beef
Saute for a while
£8.50
Quick-Fried Beef with Cumin
Hot
£8.50
Quick-Fried Lamb with Cumin
Hot
Stir fried lamb with cumin
Chinese Muslim style, cumin encrusted lamb
£8.80
Fried Fish Fillet in Sweet & Sour Sauce
£8.50
Mixed Meat Szechuan Style
Medium
£7.30
Mixed Meat with Cashewnuts
£7.30
Kung Po Mixed Meat
Mild
With cashew nuts
£7.50
Set Meal for One
Mini spring roll or BBQ ribs
Sweet & sour chicken or chicken curry or beef curry
Boiled rice or chips
£10.00
Set Meal for 2 (Min for 2)
Spring roll
Crispy wonton with sweet & sour sauce
Barbecue spare ribs
Chicken curry
Beef in black bean sauce
Sweet & sour king prawn in Hong Kong style
2 Egg fried rice
2 Fortune cookies
£27.50
Set Meal for 3 (Min for 3)
Spring roll
Chicken satay on skewers
Sesame prawn on toast
Peking spare ribs
Sweet & sour chicken (Hong Kong style)
Beef in satay sauce
King prawn in black bean sauce
Chicken chow mein
3 Egg fried rice
3 Fortune cookies
£38.50
Set Meal for 4 (Min for 4)
Duck spring roll
Crispy wonton with sweet & sour sauce
Salt & chilli spare ribs
Quarter aromatic duck
Crispy shredded chicken in chilli sauce
Beef in oyster sauce
Sweet & sour pork (Hong Kong style)
King prawn curry
Special chow mein (with pork & shrimp)
4 Egg fried rice
Banana fritter
4 Fortune cookies
£45.50
Jumbo Box
Chicken wings (4)
Dry BBQ ribs (2)
Mini vegetable spring rolls (6)
Chicken balls (3)
Egg fried rice (1)
Beansprout noodles (1)
Salt & pepper chips (1)
Curry sauce (1)
Prawn crackers (1)
(Can Not Change Items)
£16.00
Egg Fried Rice with Sauce Curry Sauce
£3.50
Egg Fried Rice with Sauce BBQ Sauce
£3.50
Egg Fried Rice with Sauce Sweet & Sour Sauce
£3.50
Chips with Sauce Curry Sauce (Mild)
£3.30
Chips with Sauce BBQ Sauce
£3.30
Chips with Sauce Sweet & Sour Sauce
£3.30
Chips, Egg Fried Rice with Curry Sauce
£4.20
Soft Noodles with Beansprout
£4.00
Sauce BBQ (Chinese Gravy)
£2.80
Thai Tom Yum Chicken
Mild
£7.30
Thai Tom Yum Kung Prawn
Mild
£7.50
Thai Tom Yum Special
Mild
With chicken, beef, pork & prawn
£7.80
Malaysian Sambal Chicken
Medium
£7.30
Malaysian Sambal Beef
Medium
£7.30
Malaysian Sambal King Prawn
Medium
£7.50
Malaysian Sambal Special
Medium
With chicken, beef, pork & prawn
£7.80
Japanese Chicken Curry
Mild
Service deep fried chicken breast & broccoli
£7.80
Japanese Beef Curry
Mild
With broccoli
£7.80
Japanese King Prawn Curry
Mild
With Broccoli
£8.00
Mixed Vegetables Curry
Mild
£6.60
Mixed Vegetables in Black Bean Sauce
Medium
£6.60
Kung Po Mixed Vegetables
Mild
With cashew nuts
£6.60
Bean Curd in Black Bean Sauce
Medium
£7.20
Kung Po Bean Curd
Mild
With cashew nuts
£7.20
Deep Fried Bean Curd with Salt & Chilli
£7.20
Chicken in Satay Sauce
Mild
Contain nuts
£7.30
Beef in Satay Sauce
Mild
Contain nuts
£7.30
King Prawn in Satay Sauce
Mild
Contain nuts
£7.50
Mixed Vegetable Fried Rice
£6.60
Singapore Fried Rice
Medium
With pork & shrimp
£7.40
Special Fried Rice
Mixed meat stir-fry with vegetables
£7.80
Sweet & Sour Chicken Hong Kong Style
£7.20
Sweet & Sour Chicken Ball
£7.20
Sweet & Sour Pork Hong Kong Style
£7.20
Sweet & Sour King Prawn Hong Kong Style
£7.50
Sweet & Sour King Prawn Ball
£7.50
Sweet & Sour Special
With chicken, pork & prawn
£7.80
Special Foo Yung
With chicken, beef, pork & prawn
£7.50
Contact Us
Find Us
25 Union Street, Inverness, IV11QA
We deliver to
IV1, IV2, IV3